Detox and Weight Loss Retreat
Cleanse your body and feel renewed
Want to feel good in your body, but don't know where to start?
Are you fed up and tired of feeling bloated and overweight? Do you feel unattractive, unhealthy and don't have the time to dedicate to yourself to change things. Do you struggle with dieting, always busy, with no time for exercise or lacking the knowledge and support of where to start? Believe me; we can relate to that, we understand how you feel. Sometimes you just need to get away from the hassles of life, so you can relax, regenerate and feel good about yourself and return home more confident and in control of your weight loss path so you can enjoy life to the full.
And kick start your body, to get back into those healthier habits and shed a few kilos in just 8 days. This retreat allows you to renew yourself physically and psychologically, so that you return home feeling fully rejuvenated.Let's throw away those confusing beliefs about dieting that are literally weighing you down and change your relationship with food and exercise forever. Experience how to eat well so you can sustain weight loss and learn new strategies that will maintain your motivation and increase fitness.
We can help you become aware of your body burden and learn how to clear physical toxins that have accumulated in your body and for some, releasing those emotional stresses to enable your health to flourish. You will experience how to lay the foundations to a healthier way to live, by teaching you a better approach to food and to empower you by becoming fitter and stronger in every way.
"If we are creating ourselves all the time, then it is never too late to begin creating the bodies we want instead of the ones we mistakenly assume we are stuck with"Deepak Chopra.
What is included while you are here?
We offer you an all inclusive package for  8 days 7 nights, with a daily timetable that runs from 7.45am to 9.00pm that gives you full board and accommodation so that you have enough time to soak up the sun and also to kick start your detox-weight loss.
We take care of everything for you, all your meals, juicing, digestive support, refreshments and snacks so you get all the benefits from your stay without worrying about the details. enabling you to fully relax and enjoy your time spent with us. 
You will also get:
• Health assessment on arrival, final evaluation and recommendations  before you leave.
• Individualized Therapeutic and detox program, and personal diet.
• TVs in bedrooms, restaurant area and in accommodation apartment. Free Wi-Fi.
• Free use of swimming pool, sauna, hot tub and gymnasium.
• 2 massage sessions to enhance the detox process.
• 4 x PEMF sessions, to recharge your energy levels.
• 1 exercise sessiones in the gym with personal trainner. He will provide with a personalised exercise plann and guideliness to continue.
• 1 Hyperthermia treatment, to enhance your regeneration.
• EWOT (exercise with oxygen therapy), for those with oxygen saturation deficit.
• All retreat activities: yoga, rebounding, guided walks, cookery and creativity demonstrations, etc
• Pre-retreat health questionnaire.
• Post retreat support for those that require; we are always here to help.
• Additional treatments can be arranged and paid for separately.
• Free transfer from Zaragoza airport and train station. Easy access from Barcelona airport. (See location).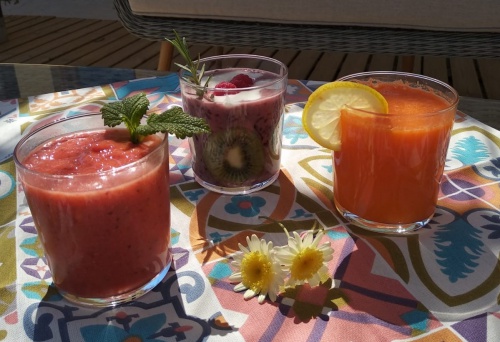 The first 5 days of your stay are the bases of your the detox process, with a diet based on juices, smoothes and salads made with fresh vegetables and fruits, which also form an important part to your kick start to weight loss. Of course you can cantinue with this plann for longer if you wish, it's entirely up to you.
After the inicial 5 days, it's time to begin eating! We continue the detox process by eating a low inflammatory diet with the right balance of healing foods that your body needs to function optimally. You will be eating nutrient rich, nourishing and delicious foods that really are medicinal! With an abundance of fresh fruit, green leafy vegetables, wonderful organic meat and fish dishes, all whole superfoods, packed full of healthy healing properties to flood your body with revitalizing nutrients.
"I loved this retreat because of the personal attention. My stay has taught me new aspects of my health plan, so a lot more was gained for my benefit and wellbeing".
Leena Mungapen. Detox Retreat.
Exercise your Way to a Healthy Body
Our gym workouts are encouraged as they not only allow you to lose weight faster but also sculpture your figure, so that you can look great and feel attractive. We also include aerobic exercise such us jogging, walking, swimming, cycling and rebounding, which are timetabled throughout the week and all help to generate greater levels of health and vitality.
Following your health assessment an individual exercise program will be made for you that focuses on your personal requirements so that you can exercise optimally and get better results. This can then be followed for the duration of your stay, with revision throughout and advice for when you return home.
Devote some Serious Time for yourself
Enjoy your accommodation with nature at your doorstep. Our lovely  ground florr south facing rooms with mountain views offer privacy and comfort, fully fitted with a TV, Wi-Fi and additional items to make your stay the perfect get away. We also have rooms in our country house, where you can enjoy the beatiful views and relax in all the common areas.
For those perfect evenings we invite you to take full advantage of all the services offered during your stay. You could take a sauna or perhaps a late night hot tub, so that you can experience the night sky and escape from the worries of the outside world with no distractions to interfere with this tranquil setting.
Discover the Beauty of Spain
First thing every morning, you will be waking up to the sun's rays with a brisk walk to really warm up the lymphatics and get everything circulating well. These walks will be guided so you don't need to worry about getting lost and you will gain the knowledge of this picturesque area so that you get to see the best of our beautiful surroundings in the Maestrazgo Iberic Mountain range. 
Once a week we will take you on an excursion to visit other natural beauty in the surrounding area, like the Pitarque river source, the Bergantes river or Calanda lake.
What can you expect at the end of your retreat?
During the weeks detox process you will really notice your health improving. Everyone is different but typically some pretty amazing things happen as your body and liver becomes rested and recovers to give you amazing benefits. You will feel lighter, your mood will be happier, and your memory clearer. Joint pain can reduce, sleeping becomes more profound, eyes and skin become brighter, and you will experience an overall improvement of chronic symptoms. Your energy levels are going to sky rocket and you're going to feel better all over and be carrying less weight than when you arrived, usually 2 to 5 pounds less.
The intensity of your detox will depend on your individual needs and circumstances and to the degree to which you wish to commit to the process. If you are new to detox then we recommend that you start with a three day detox period, this can be extended if you wish; nothing is set in stone it is entirely up to you. The evaluation of your detox period can be decided once you are here, following your initial assessment.
How to Prepare For Your Stay
First and foremost, if you are dealing with a chronic condition or specific disease situation, be sure to consult with your doctor before starting your cleanse and detox program.  
3 or 4 days prior to coming, to help the liver prepare for your cleanse, try to stick to a less processed diet avoiding fried foods, excess of oil and fats, and have small meals. This will allow your body to rest and prepare. Also, increasing your water intake and adding a little lemon to it, will gently introduce  you to the process. 
In order to learn a little about you and your health, 2 weeks before the start of your retreat, we'll send you a health questionnaire, so that it can be returned to us before your stay. This information will help us to personalise your retreat as much as possible.
At the end of your week, a post retreat guide, specific to your individual needs, will be given to you. This will facilitate you  to continue with what you have learnt and enable easy integration into your home life. We hope you enjoy the positive effects of your stay long into the future.
SPRING AND SUMMER 2023:
We are looking forward to these spring and summer retreats. Unfortunatelly due to adverse family circunstances we may not be able run retreats this year.
As soon as these matters are sorted we will set new retreat dates.
The number of spots in our retreats is always reduced, so that we can provide personalised care to our clients. Maximum 7 participants.
Prices for 8 days, 7 nights
Ground floor room
Shared double with private bathroom: 920€ per person.
Single with private bathroom: 1090€ per person. 
Country house room
Single with private bathroom, non ensuite: 1040€ per person. 
It's necesary to pay a 15% deposite of the total price, which is refundable upto 1 week before the start. The remaining balance is to be paid on arrival.